What is a domain name? A domain name is the name of a website, for example: Google.com or DomainCart.com
Also known as web address or URLs, they are also the addresses that you see or type in your internet browsers address bar.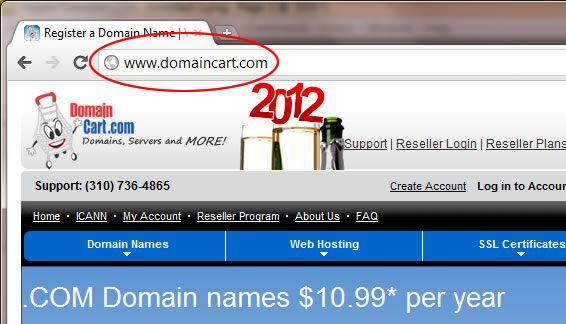 A domain name can be acquired by registering it with a domain name registrar such as Domain Cart.
Domain names can have different extensions or TLDs, and some of these available extensions are:  .COM, .NET, .ORG, .INFO or others available out there.
Domains are registered and renewed in an annual basis, from prices ranging from $1.99 up to $100 dollars per year depending on the type of extension you are registering, .COMs usually go for $10.99 or less, .NETs go for $9.75 and .XXX domains go for $99.99 per year.
There are also international domains owned by different countries for example .CO, .MX, .ES, .IN or .CR, these specific country TLDs are maintained by their specific countries.
Domains are usually purchased to start a website or to protect company or brand names, in other words if you own a company or brand you should register a domain such as YOURCOMPANY.COM, doing so will protect you from the possibility of  a third person registering your desired domain before you do.
You can also register domain names to build marketing campaigns for specific products or services from your company.
To register a domain name simply go to DomainCart.com and start your domain name search now before someone else does.
So now you know what is a domain name, now tell everyone what it is by sharing this article with your friends and family.